A recent study show us that exiting by column and not by row cut down deboarding times significantly.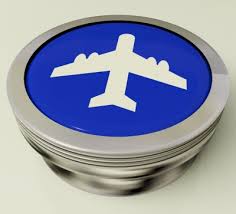 According to this study the time savings can be of at least 35%.
Why it makes sense? Currently, each person moves towards the exit as soon as they physically can — which slows down everyone behind them because they often end up blocking the whole line as they get their bag down.
For example one efficient use of the aisle would be to let all the aisle seat passengers get their bags down at once without blocking others.
Why airlines do not do it?
Some experts suggests that it is because of first-class seats. Part of the benefits of those seats are that they allow passengers to get off before the deboarding process. Many airlines also charge more for premium coach seats towards the front of the aircraft as well.
So, what do you think? Is this a better way? Or there is another we have not heard of? Please write your comments below!
Thanks for visiting our blog and please share and like!
Credits:
Image courtesy of Stuart Miles and Vectorolie at FreeDigitalPhotos.net
Source: http://www.sciencedirect.com/science/article/pii/S0969699714000027